Our data suggests that $170M in investment went into African health tech in 2022.
This investment comes from 124 deals to 101 companies, and includes publicly-disclosed grant funds. Our data includes slightly more deals than health tech investments reported by Africa The Big Deal ($134.2M), Briter Bridges ($162M), but fewer deals than those reported by the VC Partech who also report on undisclosed investments ($260M).
INSIGHT 1  –  Last year, companies offering novel supply chain and insurance solutions were favourites of investors, with companies operating primarily in these areas capturing >50% of the total investment. Companies primarily offering telemedicine services, a category which generated excitement in earlier pandemic years, captured less funding. As always, business models do not fit neatly into categories as innovators often work across several areas but rough categorization helps indicate which core capacities investors are positioning for growth.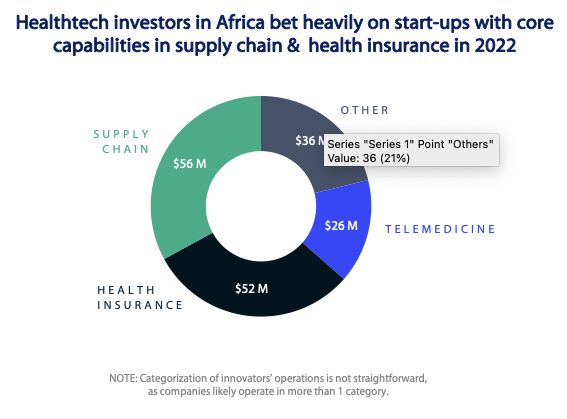 INSIGHT 2  –  The top 5 companies raised 60% of all funding, with a Series B raise for Reliance, Series D raise for mPharma, debt investment in Goodlife, a bridge round for CarePoint and a strong Series A raise for Turaco. Important to note that all 3 of the companies that offer health care services leverage tech to enhance – but not replace – in-person care. We are strong believers in the role of tech to super-power existing providers, networks and systems.
INSIGHT 3  –  Companies led solely by men captured 55% of the deals, but nearly 90% of the value. Companies led solely by women landed 22% of the deals, but only 1% of the value. Wildly depressing given all the attention to funding women leaders, especially in health.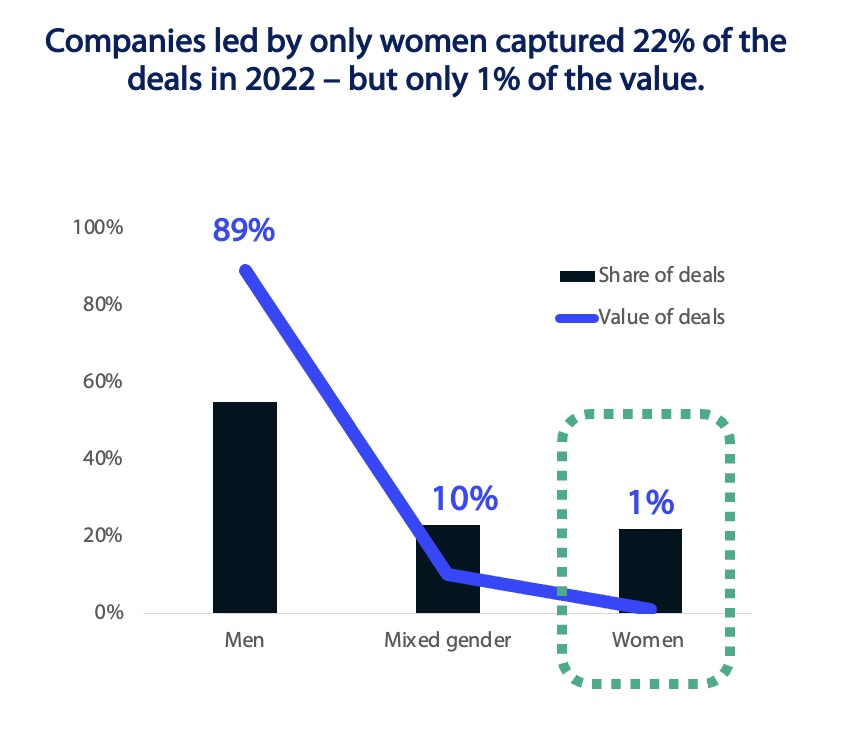 Interested in how health tech in Africa can advance your goals? Want to dive further into our data? We'd love to chat.